Reading Time:
3
minutes
Vulnerability assessment is the process of systemic review of security weaknesses by recognizing, analyzing, and prioritizing vulnerabilities existing in systems or IT equipment. It is to trace prevailing threats in the environment and recommend remediation and mitigation methods. With the appropriate information on hand, the risk factors can be easily determined and can be competently defined without any delay. Vulnerability assessment is not specific to any sector and can be applied in all industries, from IT to energy or utility sector.
Examples of vulnerability threat assessment are –
Escalation of privileges due to faulty authentication mechanism.
Code injection attacks like SQL Injection or XSS.
Insecure defaults – guessable admin passwords
Types of Vulnerability Assessments
Host Assessment: Server and host vulnerabilities are identified. Ports and services are examined. Provide visibility into the patch history of scanned systems and configured systems.
Network Assessment: Identifying network security attacks. Assesses policies and practices to ensure zero-vulnerability related on wired or wireless networks.
Application Assessment: Identifying vulnerabilities in web applications and their source code.
Database Assessment: Assessing database or identifying grey areas in database.
4 Step Vulnerability Assessment – Security Scanning Process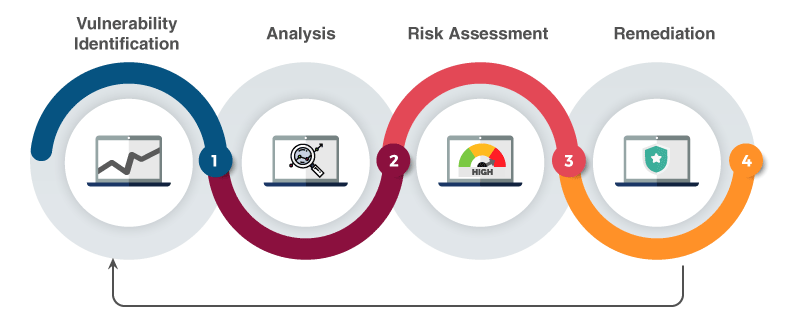 Step 1 – Vulnerability Identification
The main purpose of the first step in vulnerability assessment is to identify the assets and then define the risk associated with every such device. By analyzing the security threats, you are analyzing the health of the applications, systems, or servers on the network. These devices are scanned using automated tools or by a manual evaluation process. Analysts rely on vendor vulnerability announcements, threat intelligence feeds, vulnerability databases, and asset management systems to locate security weaknesses.
When you have the details of the accessibility of the device or authorization user's data, you can predict further details related to the impact of risk, threshold of risk, mitigation of device, suggesting the risk strategy, and analysis of business impact.
Step 2 – Vulnerability Analysis
The second step is to identify the source of the vulnerabilities that are identified in the first step. Here in this step, you identify the system components and the root cause behind them being vulnerable. Get better knowledge of the certified drivers and software installed on each device along with the configuration of the devices. Collecting the public data of vulnerabilities, and version, vendor and other details of the devices will make the analysis easy.
Step 3 – Risk Assessment
The objective is to prioritize the vulnerabilities using a severity score. Security analysts prioritize vulnerabilities based on the following criterias–
Systems that are affected
Data and business functions at risk
Easy of attack
Severity of the attack
Identifying potential damages because of attack
Step 4 – Remediation
Closing the security gaps is the main objective of this last step. This is performed by the security team in collaboration with the development staff. The development team determines the effective remediation strategy of each vulnerability. The remediation steps include –
Brining new security procedures and implementing measures.
Updating configurational changes.
Development and implementation of a vulnerability patch.
Vulnerability assessment is not a one-time activity and to make it effective, organizations must perform this process repeatedly at regular intervals by fostering cooperation between operations, development, and security team members.
Vulnerability Assessment Tools
Vulnerability assessment tools are used to bring automation while scanning for new and existing threats that may target your application. Among the various tools, few are –
Protocol Scanners: These scanners search for vulnerable ports, network and protocol services.
Web Application Scanners: These scanners test for known attack patterns on the website.
Network Scanners: These help in visualizing and discovering malicious activity like stray IP addresses, spoofed packets, generation of packet from single IP address, etc.
Vulnerability Assessment Report
Organizations should follow the practice of scheduling regular and automated scans of all crucial IT systems and applications. The outcome of the scanning process should be updated on a report so that the information can be pooled while strategizing a vulnerability assessment process. A well-defined report includes the following information –
Name of the vulnerability
Discovery date of vulnerability
A detailed explanation of the vulnerability
Common Vulnerabilities Exposures (CVE) and their scores
Affected areas including systems and their details
Suggestion on fixing the vulnerability
PoC of the vulnerability
Vulnerability assessment helps increase the security standard of the systems by pointing out the grey areas on the surface. Cyber criminals target network systems, computers, applications, ports, and more with a defined goal.
Vulnerability assessment is a task that every penetration tester performs. Having a degree in cybersecurity can help you learn the technicalities of vulnerability assessment along with other broader concepts of ethical hacking and penetration testing. EC-Council University's Bachelor of Science in Cybersecurity and Master of Science in Cybersecurity are recognized degree programs that can help a professional in cybersecurity explore a career in vulnerability assessment.
Are you looking to pursue a career in cybersecurity?
Talk to our counselors now!