If you are a veteran who is enthralled by technology and who deeply desires a job that allows you to put to use skills you learned in the military like leadership, discipline, and management, then a Master's or Bachelor's degree could put you on the path to a career in an industry that fits your profile— Cybersecurity.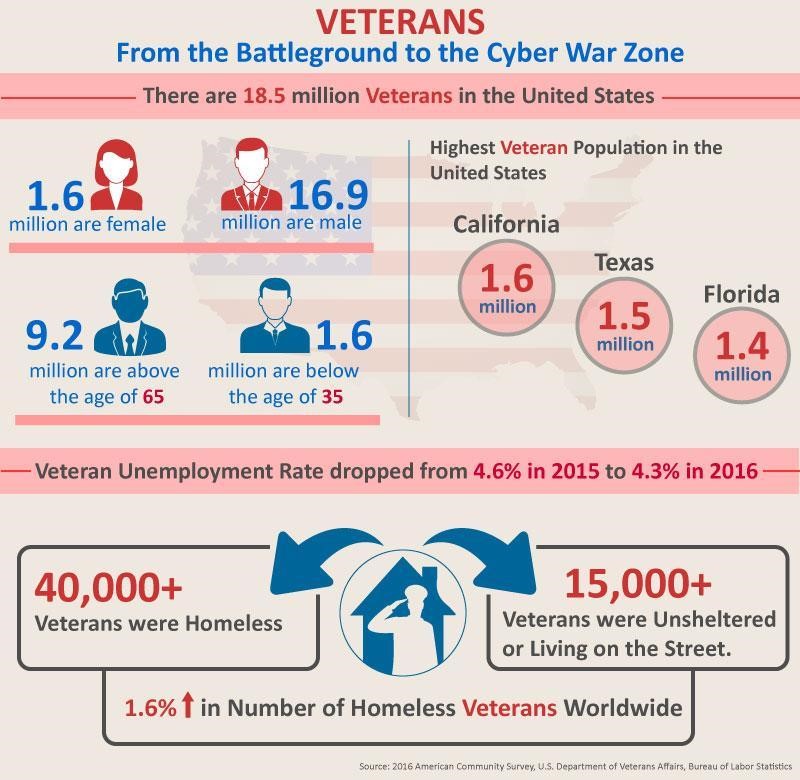 Although the veteran unemployment rate has declined from 4.6% in 2015 to 4.3% in 2016, there is a long way to go before we attain a 0% unemployment rate. Unemployment levels among the veterans have left many homeless, with the percentage of homeless veterans increasing 1.6% between 2016 and 2017, proving the urgent necessity to address the problem.
Regardless of where they have served, in many ways veterans are the most suitable candidates for cybersecurity positions as the skills they learned in the military make them uniquely suited to the field. Certain qualities like the ability to process problems and find solutions quickly, being team-oriented, and the ability to work under extremely high pressure are traits needed in cybersecurity. In fact, veterans who have worked in intelligence positions are ideal candidates for high-level cybersecurity positions.
There are a large number of military skills that are easily transferable to the cybersecurity industry. A few aspects of cybersecurity that many veterans are already familiar with are:
Risk Management – Understanding the financial risk of any situation and using time management, project management, and organizational skills to reduce negative impact.
Teamwork – Knowing when to follow, when to lead, and when to speak up.
Conflict Resolution Abilities – Handling complex problems while remaining calm in stressful situations.
Persistence – Resilience to facing threats without giving up or breaking down.
Flexibility – The ability to research and implement new ideas.
Risk Assessment – Understanding what needs protection and how to protect it.
Leadership Skills – Being able to communicate, delegate, gain trust, motivate, take responsibility, assure commitment, and remain flexible.
Self-Motivation – Never needing to be told twice and having the ability to complete tasks with complete efficiency.
Apart from these skills, many veterans have also gained some exposure to enterprise-class software and hardware that gives them the upper hand when compared to less-experienced civilian candidates. Veterans who have prior experience in security operations are of course ideal employees for cybersecurity jobs. Another benefit of hiring a veterans as a cybersecurity experts is that many veterans have already received a security clearance, making the whole hiring process a bit easier.
However, like any other industry, it is also crucial to an employer that the candidate holds a degree or a certificate in the relevant subject to show that they have the right skill set to carry out the tasks.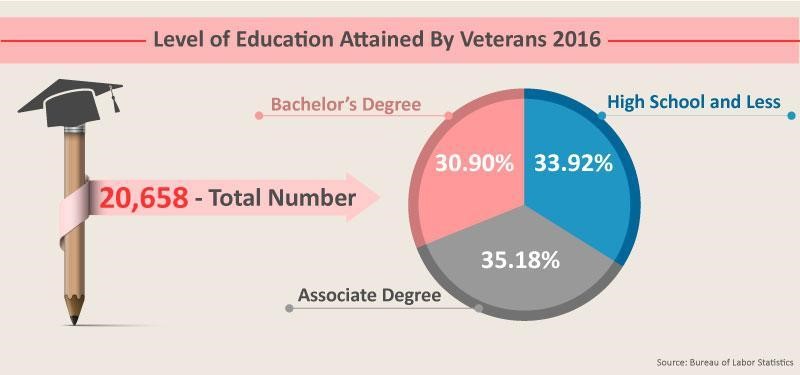 According to the Bureau of Labor Statistics, among 20,658 veterans above the age of 25, only 6,382 have managed to obtain a bachelor's degree. Over 14,000 are undergraduates, of which a little over 7,000 have attained less than a high school education.
Many government institutions are recognizing the urgent requirement for cybersecurity professionals in order to ensure national security. To help fill the growing gap, a few state governments are starting initiatives to encourage more veterans to join the cybersecurity industry.
As it is not easy (financially and academically) to gain a degree in cybersecurity, many veteran educational programs have been implemented by the government to ensure that deserving veterans gain easier access to obtaining that degree.
EC-Council University has dedicated itself to providing veterans the best opportunities available to pursue a career in cybersecurity. With a degree in cybersecurity, you possess the knowledge to pursue a successful career as an information security analyst, a digital forensic examiner, or many other interesting job roles.
The cybersecurity industry is only going to grow in the years to come. This opportunity for professional growth and the pay scale that the industry has to offer are a few reasons to pursue a career in cybersecurity.
Get in touch with our veterans coordinator who will be able to work with you to see if you qualify for veterans benefits in the EC-Council University degree programs in Cybersecurity.
Click here to connect.
---
Sources:
bls.gov/news.release/vet.nr0.htm

va.gov/HOMELESS/pit_count.asp

pewtrusts.org/en/research-and-analysis/blogs/stateline/2017/11/27/cybersecurity-quest-sends-states-to-vets-students-and-women
[stm_sidebar sidebar_id="3085″]