Reading Time:
4
minutes
New Delhi, India – 16th March 2019: The Institute of Technology and Science (ITS) announced a partnership with EC-Council University (ECCU) to promote cyber security skill development for its students. With this partnership, ITS students can now gain access to the cybersecurity curriculum of EC-Council University, which is recognized globally.

According to IBM, India's current supply of cybersecurity professionals annually is merely 100,000 while the demand for cyber talent is at an astounding 3 million. This large gap in the supply and demand of cybersecurity professionals, with the increase in cyber threats, is a rising concern among organizations and institutes in India.
This partnership will give students of I.T.S, Ghaziabad the opportunity to attain EC-Council's industry-recognized certifications, which are embedded in the courses offered by EC-Council University. These courses will be delivered by EC-Council University, which will enable the students to be trained by practicing industry experts via an online delivery model.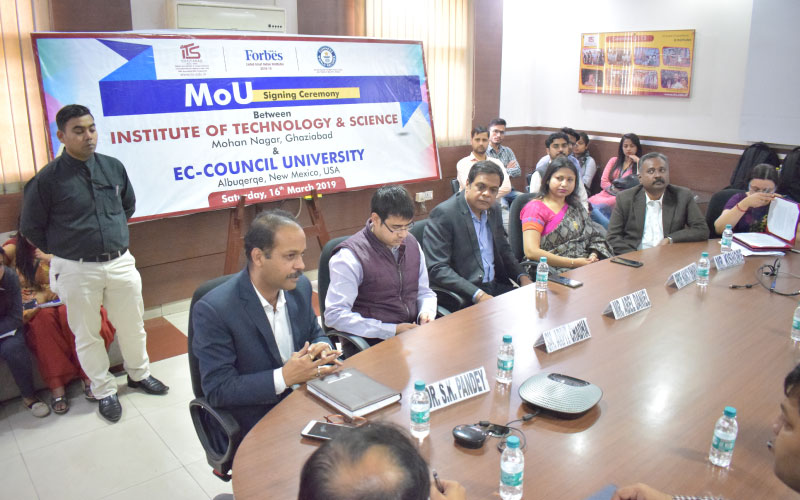 Lata Bavisi, President of EC-Council University said, "We strongly believe that our partnership will help curb the growing cybersecurity skills-gap in India which is a region of strategic importance to EC-Council University, especially in the development of a skilled cybersecurity workforce. A partnership like this will also help create skilled professionals to deal with the rising cyber threats."
About EC-Council University
EC-Council University was founded in 2003 by the Chairman of the Board, Mr. Sanjay Bavisi, to educate and train information security professionals across the globe. It currently offers a Master and Bachelor of Science in Cyber Security as well as five graduate certificate programs. All programs are built to provide students with a strong foundation and preparation in management and leadership. EC-Council University values ethical behavior, innovative thinking, critical thinking, scholarship, and leadership. Our programs advance the goal of educating information security experts, preparing them to make the world safer and more secure for everyone.
EC-Council University is accredited by Distance Education Accrediting Commission (DEAC)— a private, non-profit organization that operates as a national accreditor of distance education institutions. Accreditation by DEAC covers all distance education activities within an institution and it provides a single source of nationally recognized accreditation. DEAC is listed by the U.S. Department of Education as a nationally recognized accrediting agency as well as a acknowledged member of the Council for Higher Education Accreditation (CHEA).
EC-Council International, the parent company of EC-Council University, is a world leader in certifying professionals in these skills and techniques. The company is the creator and owner of several internationally-recognized certifications including Certified Ethical Hacker (CEH), Computer Hacking Forensics Investigator (CHFI), Disaster Recovery Professional (EDRP), Certified Network Defense Architect (CNDA), Certified Security Analyst (ECSA), Certified Secure Computer User (CSCU), Network Security Administrator (ENSA), and License Penetration Testing program (LPT) among others in more than 150 countries.
EC-Council has certified more than 220,000 information security professionals worldwide.
To know more about EC-Council University visit: https://www.eccu.edu/
About the Institute of Technology and Science
I.T.S – The Education Group is a 24 years old leading educational group of the country. Its various programmes are NBA accredited & the campus is NAAC (A-Grade) accredited. ISO 9001:2008 certified group offers 20 courses to its 8000 students through its 8 Institutes spread over 4 campuses, endowed with state-of-the-art infrastructure, all modern facilities and more than 700 distinguished faculty members.
Mr. Arpit Chadha, Vice Chairman, I.T.S – The Education Group said that "with increased automation and usage of IT & IT enabled tools, everyday different new threats are reported. To counter these threats and keep ourselves safe and secure, yet access these facilities, there is strong need of understanding the cause and there remedy. Keeping this in view we are happy to announce our partnership with EC-Council University, New Maxico with confidence that our association will help curb the growing cybersecurity skills-gaps, especially in the development of a skilled cybersecurity workforce. A partnership like this will also help create skilled professionals to deal with the rising cyber threats."
I.T.S – The Education Group is a renowned and established educational group offering programmes in Management, IT, Dental, Engineering, Pharmacy, Biotechnology and Physiotherapy. PGDM programme offered by I.T.S is equivalent to MBA as certified by the Association of Indian University (AIU) which is a rare recognition given to any such programmes in India.
I.T.S supplements education with its CSR activities offering help, care and guidance to the down trodden and unprivileged segments of the society. I.T.S-The Education Group offers nonprofit medical care to society through its 100 bedded fully equipped multi-specialty hospital and its Mobile Health Care facilities in nearby Rural Areas.
In recognition of its efforts to ensure academic rigor, its excellent placements and social services, the Institute has been awarded with several awards. Recently Bhart Ratna, Padma Vibhushan & Ex. President of India His Excellency Shri Pranab Mukherjee awarded Shri Arpit Chadha, the visionary Vice Chairman of I.T.S – the Education Group with "Most Preferred UG & PG Institute in India" during 12th ASSOCHAM National Education Summit.
To learn more about ITS, visit https://www.its.edu.in/
Are you looking to pursue a career in cybersecurity?
Talk to our counselors now!