Ethical hacking is not new to the cyber world, but it gained prominence in the year 1970 when the US government hired Red Teams to hack their own systems to safeguard against any malicious attack. [1]
An ethical hacker proactively tries to hack information systems by breaking all possible defensive walls with the permission of the owner in order to understand security risks and fix them, to defend against any future vulnerabilities.
The Process of Ethical Hacking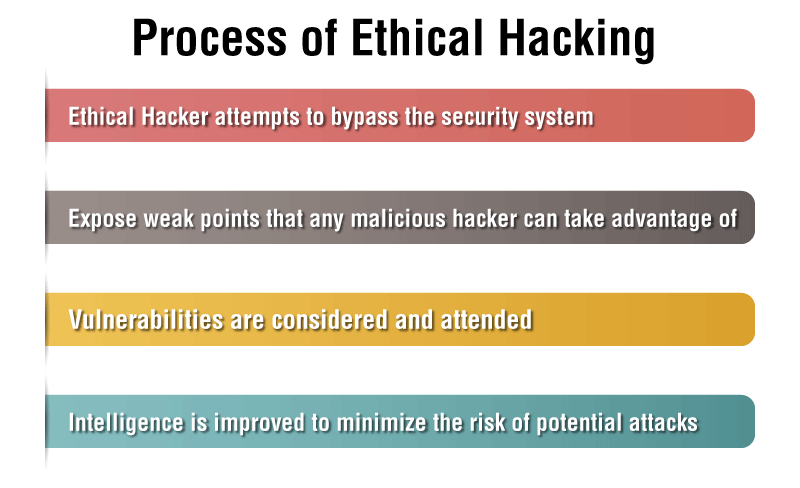 Government agencies and private organizations are concerned about the security of their network and the crucial data that they hold. Government and defense services that deal with personal information or valuable data of national significance are more serious about their information security systems. They often hire ethical hackers and penetration testers who can help them improve their security standards in terms of defending their networks, computers, applications, database, etc. from being hacked. It is through the process of ethical hacking that many organizations and businesses are able to defend themselves from the reach of black-hat hackers.
What makes you an Ethical Hacker?
To catch a thief sometimes you have to act like a thief, but an ethical one!
An ethical hacker should be equally or more competent than the competitor – the black hat hacker, only then can he be successful. In general, the following are the few mandatory skills that you must have to become an ethical hacker:
a) Intelligence Gathering
In the comfort of your office chair, you should be able to execute a full-blown hack and gather information about it. As an ethical hacker, you must maintain an eye-for-detail to gather all information from various sources. Being curious is a major part of your role, in fact, being a part of ethical as well as non-ethical hackers' groups, forums, will help you gather information about the latest hacking techniques and tools in the market.
b) Hacking Systems
Being a hacker, you now know how to penetrate systems, not to steal information but because you have been hired by an owner to hack his own systems. You are like the security guard who enters through the window to your neighbour's house just to tell him that he should lock the window properly. Being an ethical hacker means that you should be vigilant of various processes which could be a vulnerability through which an intruder could enter.
To be a hacker, you should behave like one! Therefore, you should be a step ahead in finding the vulnerabilities and developing skills to reach them, before a black-hat hacker.
c) Be Ethical
The difference between the white hat hacker and a black hat hacker is whether their behavior is in fact 'ethical'. As an ethical hacker, you are not only trust-worthy but have ethical rules ingrained in you. You can differentiate legal and illegal hacking and work within the constraints of the law without misusing your skills. An ethical hacker either works for individual self-benefit or has been hired by any person, organization or government to work as an intruder.
d) Cybersecurity Credentials
To have a stable and successful career path, you should have a degree in cybersecurity along with required industry credentials. Look for a bachelor or master's degree in cybersecurity that can give you immense knowledge on cybersecurity, leadership and management, tools of hacking, network defense, social psychology, auditing IT infrastructure, and other concepts that forms necessary skills for a successful ethical hacking career. Besides, having relevant cybersecurity credentials will improve the scope of success in desired career. Along with degree when you receive certification in ethical hacking, you will have more skilled knowledge and better career prospects.
ECCU Degrees in Cybersecurity
The Bachelor of Science in Cyber Security at EC-Council University is a two-year online program having its objective based on Bloom's Taxonomy of Thinking. The program deals with expertise areas like computer security management, security threat assessment, incident response, etc. that makes students creators of processes and not merely users of information. BSCS also inculcate the leadership and management abilities in the students and prepares them to be the managers and directors in their stream.
Through the BSCS program students can also attain three industry-recognized credentials from EC-Council, which include the coveted Certified Ethical Hacker (C|EH) and the other two are Certified Network Defender (C|ND) and Computer Hacking and Forensic Investigation (C|HFI). The BSCS prepares students to excel in all areas of cybersecurity. The program is aimed to immerse you in the mindset of a hacker so that you can identify and list all the vulnerabilities to defend the system against black hat practices.
The Master of Science in Cybersecurity at EC-Council University is a two-year online program which is also based on Bloom's Taxonomy. The MSCS program aims to deliver mix of business management and technical applications based on practical studies so that the students' can become creators of knowledge and inventors of processes. It provides the necessary skills to the students in the areas of cybersecurity, organization behaviour, business structure, research and writing.
Sources:
Are you looking to pursue a career in cybersecurity?
Talk to our counselors now!