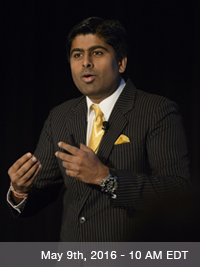 Leadership in Cyber Security Live Webinar featuring Jay Bavisi
Topic: A Pathway to a Successful Career in Cyber Security
Speaker Highlight: Jay Bavisi, President & CEO of EC-Council University, is one of the most in-demand speakers across information security conferences all over the globe. Recently awarded as the Cybersecurity Professional of the year 2015 by CSM-ACE, Jay, has an overall experience of 20 years in the cybersecurity field as the leader of the Boards of Directors of EC-Council Group, the world's largest cyber-security professional training and certification body in the world.
About the webinar: Cyberattacks are a threat to businesses worldwide, and they are getting larger and more sophisticated. As the industry grapples with an approach to protecting their assets against these threats, there is a huge demand for security professionals and even more, CISO's in organizations.Recent studies have shown that vacancies in cyber-security positions have skyrocketed as have CISOs salaries. Headline grabbing breaches in the media, has driven the world to pay serious attention to the need for a CISO in organizations. Whether you seek to enter or advance in cybersecurity, achieve leadership status, or start your own cybersecurity venture, this talk will guide you on methods to reach your goals.Join EC Council University President, Jay Bavisi, in this powerful talk where he will take you through the lucrative career in cyber security and guide you with a pathway that will lead you to a leadership position.
Are you looking to pursue a career in cybersecurity?
Talk to our counselors now!