Reading Time:
4
minutes
Organizations need a multi-faceted strategy to identify, address and combat cyberattacks. Information security infrastructure, cybersecurity skills, a well-drafted assessment methodology, etc. forms the basis of cybersecurity strategy. To pull this all together and use them effectively, an organization also needs a Chief Information Security Officer (CISO) who possesses strong leadership skills. The CISO is an intellectually curious individual who has a strong understanding of the organization's processes and operations.
Ponemon, in its report titled "The Revolving Role of CISOs and Their Importance to the Business", has few key-findings in terms of CISO role and significance in the organization's security. [1]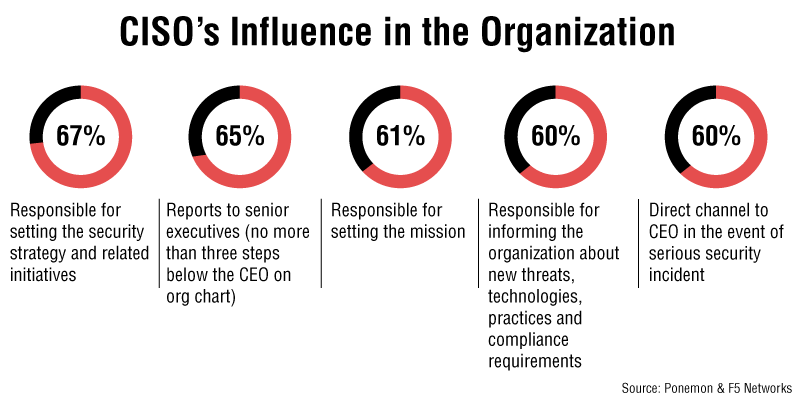 From the very first day on the job, the CISO engages different security layers and functions in the organization. The typical job role of a CISO includes data gathering, lots of listening, training, bringing awareness at all levels, and synchronizing and collating various information security policies. Organization's information security is a team's effort and therefore, CISOs should be assigned a dedicated and skilled team-force to accomplish the objective.
The Ponemon study further reaffirmed the crucial role of a CISO, especially when dealing with internet of things (IoT) devices, managing enterprise risk, and deploying security analytics. In order to play a bigger role, CISOs must have technical expertise with leadership skills and be able to articulate security from a business perspective. To successfully implement a robust security strategy at all levels in the organization, CISOs are expected to host and deliver few important traits.
6 Key Characteristics of a Successful CISO
1. CISOs Align Plans with Core Objectives
CISOs are incredible planners and carefully draft strategic plans both, short-term and long-term, to ensure that the company meets its security objectives. They set priorities, determine strategies, and create operational plans for an effective security program in line with business goals. CISOs are bound to exhibit efficacy in security planning based on management approach, risk assessment, project requirements, etc. As the strategic planning should be in accordance with business objectives, government laws, state council, and board committee that includes stakeholders and senior IT managers, the contributory role of CISO becomes significant. They assess security risks at every phase of business process and determine and execute planning that should ultimately synchronize with the enterprise's security objective.
2. CISOs Require Leadership Skills for Successful Execution
CISOs oversee the information security program and project leadership in planning, developing, coordinating, implementing, and administering security operations within the organization. Along with information security, CISOs coordinate other subsidiary programs such as physical security, risk management, purchasing and liaising, legal compliance, human resources, internal audit, and other activities that form the core of IT and business. CISOs also represent the management as a spokesperson for information security while addressing auditors, vendors, and stakeholders. They must have strong authoritative communication skills to interact with outsiders as well as to develop credibility and trust among internal employees. They must be able to interact with everyone at all levels of the organization.
3. CISOs are Responsible for Interdepartmental Coordination and Delegation
The most crucial role of CISOs is delegating the task of security among team members and among other department employees. Before delegating, the CISO shall ensure that the employee (who the security task has been assigned to) is empowered to make risk-management decisions, when required. CISO shall have a strong coordination with the team and other members to ensure that all security standards are met. The roles and responsibilities of employees and the respective heads who form a the part of the core security team, must be delineated clearly and documented to avoid confusion. This minimizes duplication of work and coverage gaps in delegation.
4. Continuous Learning is the Key Feature of a CISO
Self-development is the key characteristic to be a successful CISO. CISOs should have strong security knowledge because they are bound to attend a large variety of information security issues. They should also present strong analytical and problem-solving skills to understand and recommend comprehensive solutions to practical problems. As the CISO's acts align with business objectives, which forms the core strength of the security infrastructure, the CISO should be ardent when it comes to improvised learning. Their training and development should address ongoing needs for security enhancements, latest compliance to be enrolled and coherent with the emerging technologies like a pro.
5. CISO is a C-Level Executive
CISOs form a part of management in any organization and on their vertical hierarchy they have other C-level executives, ideally the CEO (Chief Executive Officer), COO (Chief Operating Officer), CTO (Chief Technical Officer), or CFO (Chief Financial Officer). The placement varies in every organisation but a successful CISO is treated with respect as one among the other C-level executives. CISOs perform efficiently when treated as equal partners within the management and are assigned the altitude to address technical issues and processes with authority.
6. CISOs Create Benchmarks
CISOs build self-metric programs to gain a better understanding of the security performance and improvement. They also conduct periodic reviews with other industry peers to improve the benchmarks. Security leaders also gather operational data to strategize security programs. The skill of a CISO lies in evaluating the effectiveness of the program by creating a benchmark, as a wrong metric may result in the failure of a total security program.
Successful CISOs know how to bring equilibrium in technical and managerial aspects. They are inspired, with a passion that is contagious. They know when to listen, when to address, when to collaborate, and when to be visionary. The role of a CISO constantly changes with growing demands in cybersecurity, except the fact that these C-level executives are significant to the security of the organizations and form an integral part of business management.
Do you aspire to be a CISO, a C-level executive and want to wear the tag of c-level executive? CISO is one of the highest job roles in the cybersecurity hierarchy and the first step towards the senior-most position is to attain a cybersecurity master program. EC-Council University offers complete online Master of Science in Cybersecurity with five specializations, one being Executive Leadership in Information Assurance. The specialization focuses on providing fundamental skills to be a leader in C-level information security position. The specialization gives you an opportunity to avail three flagship credentials of EC-Council, Certified Network Defender (C|ND), Certified Ethical Hacker (C|EH) and Certified Chief Information Security Officer (C|CISO) along with the Master's degree program from EC-Council University. For more details, visit https://www.eccu.edu/specialization-executive-leadership-in-information-assurance/
Source:
https://interact.f5.com/rs/653-SMC-783/images/RPRT-SEC-1167223548-global-ciso-benchmarkUPDATED.pdf
Are you looking to pursue a career in cybersecurity?
Talk to our counselors now!